About the Food Hygiene Rating Scheme
The Food Hygiene Rating Scheme is a national scheme covering England, Wales and Northern Ireland. Food businesses are given a rating based on the level of compliance seen during a food hygiene inspection.
These inspections are usually carried out unannounced and cover all aspects of food hygiene and safety. For further details about what our inspections cover please visit our inspections webpage.
Businesses are given a rating from 5 to 0 which are available to view online or may be displayed at their premises
We follow the guidance set out by the Food Standards Agency Brand Standard and Food Law Code of Practice when awarding these ratings.
How can I view food hygiene ratings?
Ratings of all food businesses in the district are published regularly on the Food Standards Agency website. You can search for businesses by trading name, address or postcode. If you cannot find the business you are looking for, please get in contact with us.
How long after a premsies is inspected does the new rating appear on the website?
After we carry out a food hygiene inspection, the business is notified of the new rating and they have a right to appeal this rating. Due to this the new rating may not show on the website for upto six weeks following an inspection.
Is it a legal requirement for businesses to display their rating sticker at their premises?
Every business is given a sticker detailing what rating they have been awarded after every inspection and they are encouraged to display this. In England it is not a legal requirement for businesses to display a rating sticker at their premises, however every rating can be viewed and searched for on the food hygiene rating website.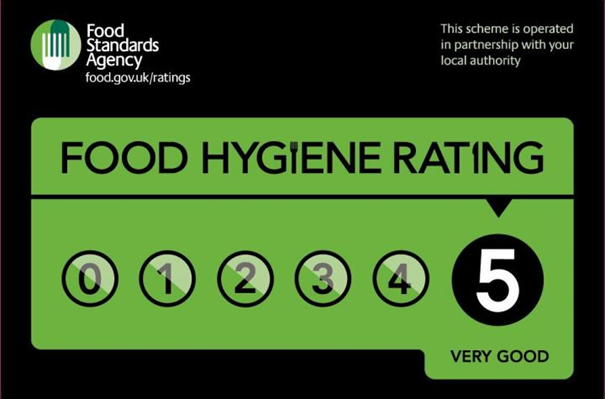 What happens to businesses with poor ratings
Businesses which are given low ratings must make urgent or major improvements to hygiene standards. We have several enforcement options available as well as giving advice and guidance to make sure these improvements are made.
We will also tell the business how quickly these improvements must be made, this will depend on the type of issue that needs to be addressed. Revisits will take place to confirm these actions have been taken, a new rating is not given during these revisits.
If we find that a business's hygiene standards are very poor and there is an imminent risk to public health, when food may be unsafe to eat, we will act to ensure consumers are protected. This could result in stopping part of the business or closing it down completely until it is safe to recommence.
We will follow our enforcement policy when taking any enforcement action against a business. For further details please see our inspections page.
Contact us
If you have any questions or queries please contact us using our online query form.
Contact us - Food and Workplace Safety
Vale of White Horse District Council
Food and Workplace Safety Team
Abbey House
Abbey Close
Abingdon
OX14 3JE