Halloween competition
Reuse your way to a great prize
Are you planning to decorate your home for Halloween? Instead of buying something new why not make spooky decorations from things you already have around the house?
With the right imagination, toilet roll cardboard inner tubes can become bats, empty plastic milk containers become ghosts or monsters and pine cones transformed into scary spiders.
We've launched a competition for children and adults to make Halloween more environmentally-friendly. Ten winners will receive books on Zero Waste recipes and ideas.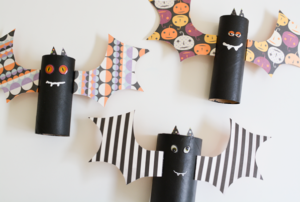 The judges are looking for the most creative Halloween ideas with reduce, reuse and recycle in mind! Send in photos of your creations to be in with a chance of winning. We will share your great ideas on our social media sites.
Terms and conditions
There are two categories – children aged 12 and under and anyone aged 13 and over.
Each entry needs:

A photograph of a completed Halloween-inspired reuse craft.
A few words describing how you made it
Your name and address (so we know where to send the prize if you win).

The deadline for all entries is 5 November 2021.
All entries should be sent BY EMAIL to waste.team@southandvale.gov.uk with the subject line Halloween Competition
The competition will be judged by our councillors.
There will be 5 winners in each category. The winners will each receive a book on zero waste ideas. Please note all prizes are non-exchangeable and non-transferable. No cash alternatives will be provided.
We will announce the winners as part of promotional work including on social media, unless entrants indicate otherwise.
The winners will be announced by 22 November 2021.